The Man City striker, Sergio Agüero is one of the world-famous football personalities and he has now hopped onto the bandwagon of seeing sports personalities on Twitch in these tough pandemic times. Large gatherings have been prohibited for a while as a prevention measure against the virus which has also led to the cancellation of Football Leagues all around the world for the time being.
Agüero who goes by the username SLAKUN10 has earned over 857,024 followers on his twitch account over the course of the past month. The Argentinan striker has been doing regular streams on his channel, the support and love he has received in his twitch journey has made him now the fastest-growing streamer while passing the likes of Anomaly, Bugha, just9n, Tfue and Pokimane as per Twitch metrics.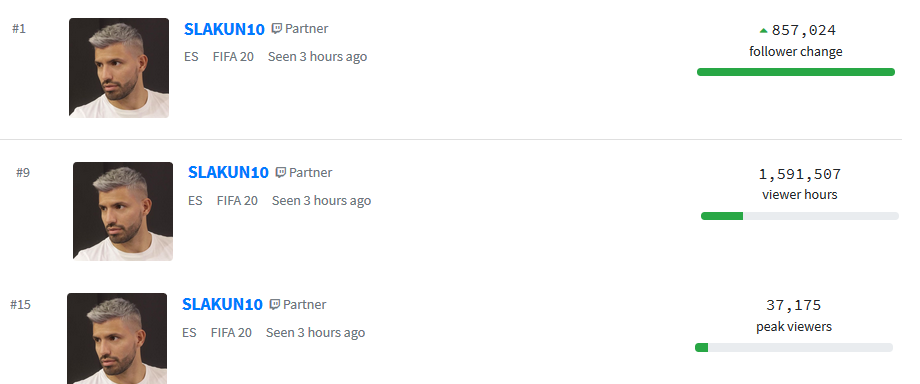 Not just that, he has also bagged him a slot in Top 10 Most Watched and Top 15 Highest Peaking Viewership for Spanking based streamers.
Considering English is not his native language, his streams are mostly Spanish based and despite not everyone being able to understand Agüero all the time, his personality has made a notable dent into the Twitch world.
To celebrate his success acquired outside the pitch about reaching 1 million mark, the Man City star decided to call his close friend and the international football icon, Lionel Messi.
The ten-minute phone call started off with Agüero letting Messi know about his adventures while roleplaying in GTA Online.
"I'm trying to get into GTA Online. It's like real life. There are even mob bosses, it's very cool.", Agüero said.
The International football icon, Messi, also confessed that he has even created an account on the streaming platform to acknowledge his friend's success by interacting with Sergio's Chat.
"Yeah, the other day I showed up but it goes super fast," Messi said. Aguero, who apparently ignored Messi that one time, defended himself by stating to his close friend that "this is work for me, man. I'm focused on this thing."
The call ended with Messi teasing Sergio's about his decision to call him the earlier morning on the same day at 9 am, not fully understanding the icon's schedule.
"At 9 AM? Me? Did I call you? I guess I was bored, I don't know. I just wanted to tell you 'have a good day'," Aguero laughed.
Although FIFA 20 and GTA V seem to Agüero's primary focus, he can also be found streaming other games like Fortnite, Call of Duty: Warzone and VALORANT.