After months of rumours around, LGD has finally unveiled its expansion with a team LGD. International and the players that will be powering the roster.
The organization was teasing about an International roster for months on their official channels, however, there was no firm word about it until a full list of LGD. International players showed up on Valve's official Major and Minor registry.
The new roster will feature five players from the Southeast Asia region in an attempt to stand up to glory in upcoming qualifiers.
Christian-John "Skadi" Abasolo
Wang "Gy" Kok Guan
Rick "Darly" Lee Ryc Kee
Yuri "Yowe" Pacaña
Pang "BrayaNt" Jian Zhe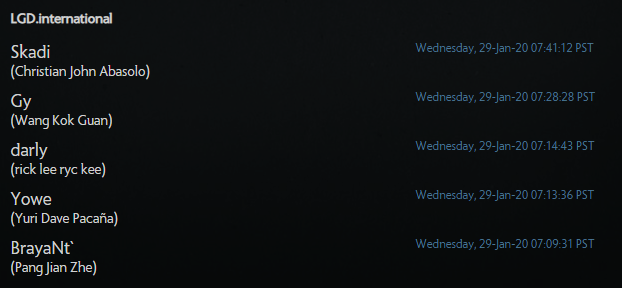 Skadi, widely knows as Skadilicious is a player that has been around the SEA scenario a while playing for teams like Neon Esports and recently, Lowkey Esports. While in his days at Neon, he witnessed some success locally, though it did not let him make a dent in any events of the Dota 2 Pro Circuit.
Yowe is also coming from the same team, Lowkey Esports. Skadi & Yowe departing at the same time from the team, both have played alongside the likes of Sam 'Sam H' hidalgo for a brief period.
Coming to BrayaNt, he is likely to be captain of this team as he actually had some experience playing at high tier Dota. Before joining the roster after fleeing from CDEC Avengers, he has spent time with Geek Fam and has been active since 2014.
GY is also another player following footsteps of their former teammates coming from CDEC Avengers to join the roster.
Daryl is the final player of the team. On his record, except his time with Genesis Pro Gaming, there isn't much to show.
We expect the squad to compete in SEA qualifiers for the upcoming ESL One Los Angeles Major which are bound to happen on February 9th.