PUBG mobile pro league South Asia finals wrapped up with team Celtz finishing their run at top of the leaderboards. Celtz stole the crown from TSM Entity's heads after day 2 as TSM-Entity failed to continue their domination in the battleground. Celtz is one of the most underrated teams of PMPL South Asia.
Overall Standings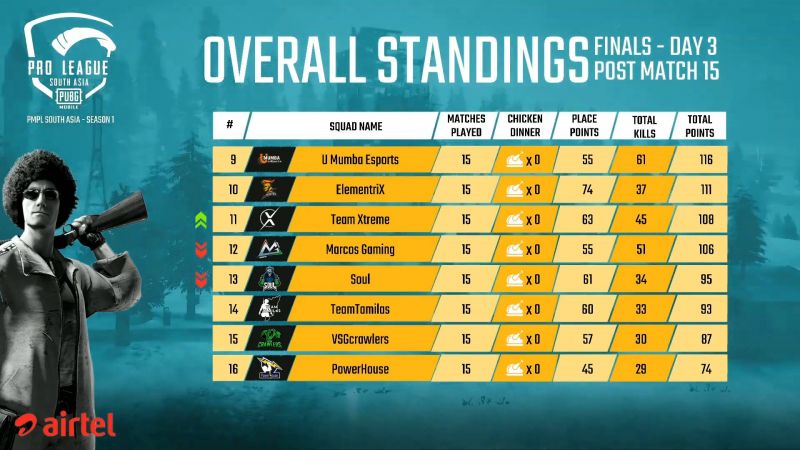 Match-wise Results
Match 1- Erangel -WWCD: TeamIND (12 Kills)
Match 2- Miramar -WWCD: Celtz (12 Kills)
Match 3- Sanhok -WWCD: Orange Rock (12 Kills)
Match 4- Vikendi -WWCD: SynerGE (8 Kills)
Match 5- Erangel -WWCD: SynerGE (10 Kills)
Celtz, the underdog team, won the PUBG mobile pro league South Asia 2020 after defeating the likes of TSM-Entity, Orange Rock and GodLike.
Celtz did not perform that good in the PMPL SA regular season but performed well enough to get a slot in the finals of PMPL SA. Celtz started their consistent gameplay from the very first day of the finals. At the end of day 2, Celtz stood at second spot and was trailing behind TSM Entity by 50 points. Celtz had a shaky start on their third day as they got eliminated at eighth position. However, they came back in the game with a chicken dinner in the second match with 12 kills. Celtz completed rest of its matches in top position which helped in overtaking TSM Entity. Celtz won the PUBG mobile pro league by gathering 213 points in 15 matches with the help of two chicken dinners.
TSM Entity despite having three chicken dinners and most number of kills in the finals failed to stop Celtz and finished its finals at second spot in leaderboard with 202 points. Megastars held on its standing on day 2 and placed third in the finals with 167 points.
Kill Leaders
Clutchgod from TSM Entity has won the prize money of $ 1,000 for himself as he was the #1 kill leader of PUBG mobile pro league South Asia finals. He eliminated 33 enemies in 15 matches and helped his team to reach that second spot. Jonathan from TSM Entity stands second in the kill leaders with 32 kills. GodLGiLL is at #3 with 30 kills.
After three days of action-packed performances from teams, we finally have the three teams that have qualified for the PUBG mobile world league East. Celtz is the first team to win the PMWL slot after its heroics in the PMPL finals. Megastars held onto its position in the leaderboard and has finally made it to the PMWL East. TeamIND fought hard till the end of the finals and got their hands on the third PMWL slot.