Day 2 of PUBG mobile pro league South Asia concluded with a chicken dinner by Megastars in the last match in Erangel. However, the team that stole the show this evening is TSM Entity. TSM Entity got back on its feet after a bad run on day 1 and made a comeback with three back to back chicken dinners.
Overall Standings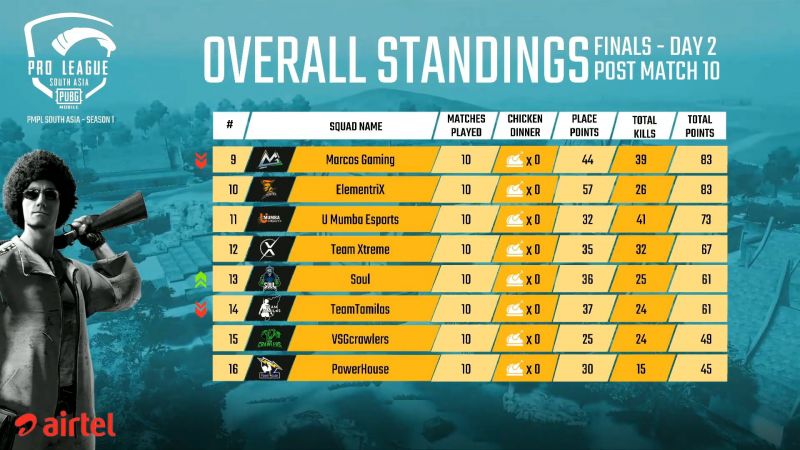 Match-wise Results
Match 1- Erangel -WWCD: SynerGE (12 kills)
Match 2- Miramar -WWCD: TSM Entity (13 kills)
Match 3- Sanhok -WWCD: TSM Entity (14 kills)
Match 4- Vikendi -WWCD: TSM Entity (21 kills)
Match 5- Erangel -WWCD: Megastars (11 kills)
TSM-Entity rose from #10 position to the top on day 2 after dominating gameplay by the members of the team. TSM-Entity made a hat-trick of chicken dinners that helped TSM-Entity reach the top of the leaderboard. TSM Entity with its aggressive approach gathered 65 kill points in five matches. The team eliminated 21 enemies in the fourth match only. TSM Entity placed itself fourth in the first match too. TSM Entity stands at the topmost position in the leaderboard with 176 points. They have gained a huge lead against team Celtz.
Celtz continued their consistent gameplay on day 2 and finished the day at #2 with 126 points. They are trailing behind TSM Entity by 50 points. Celtz did not win any match today but featured itself in top standings in three out of five matches. Megastars also made a big leap from #9 to #3 in the leaderboard with the help of one chicken dinner and two finishes at second spot. Megastars stands at #3 in the leaderboard 121 points.
Kill Leaders
Jonathan and Clutchgod from TSM Entity overtook 420op in kill leaders after their extraordinary performance on day 2 of the finals. Both of them have killed 27 enemies each. However, Jonathan gets the first position as he has dealt his enemies with higher damage than Cluthgod. 420op slipped down to third position in kill leaders. He has eliminated 22 enemies in 10 matches.
Celtz, Megastars and TeamIND seemed to be most likely teams to get their hands on three remaining PMWL slots at the end of day 2 of PMPL SA finals. Teams like Fnatic, Marcos Gaming and ElementriX are still in the race to get those PMWL slots. The winners of PMPL SA finals and teams who getting PMWL slots will be revealed after the action of day 3.